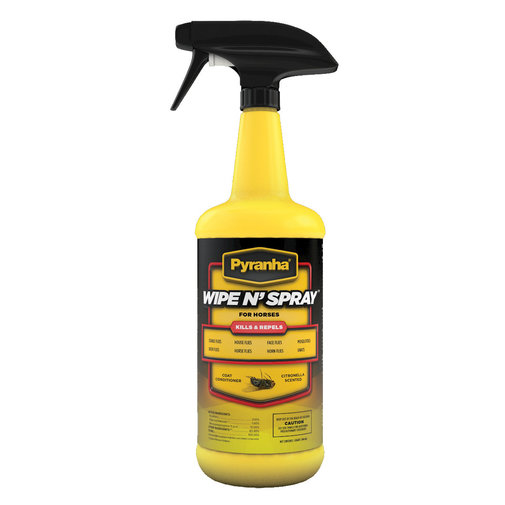 Pyranha Wipe N' Spray Fly Spray for Horses
Sale
Sale
Original price
$25.99
-
Original price
$25.99
Provides easy, effective and convenient fly protection for horses. Combination of repellent and natural pyrethrin provides a quick kill of stable, horse, face, deer, house and horn flies, mosquitoes and gnats. Also an excellent grooming aid and coat conditioner. No need to shake or stir with Pyranha Suspension® Technology. Formulation stays in solution; good from the first to the last spray. Apply and brush out for an unbeatable, fly-fighting show-ring sheen. BOV spray is a non-aerosol with no harmful propellants. Sprays continuously and quietly from any angle. Goes on clean, dries quickly and leaves no residue. 99% emptying rate and 100% recyclable.
Contains 0.1% pyrethrins, 1% piperonyl butoxide and 15% butoxypolypropylene glycol.
Apply 1-2 oz as a fine spray mist or wipe on with a soft cloth. Do not exceed 2 oz per application.