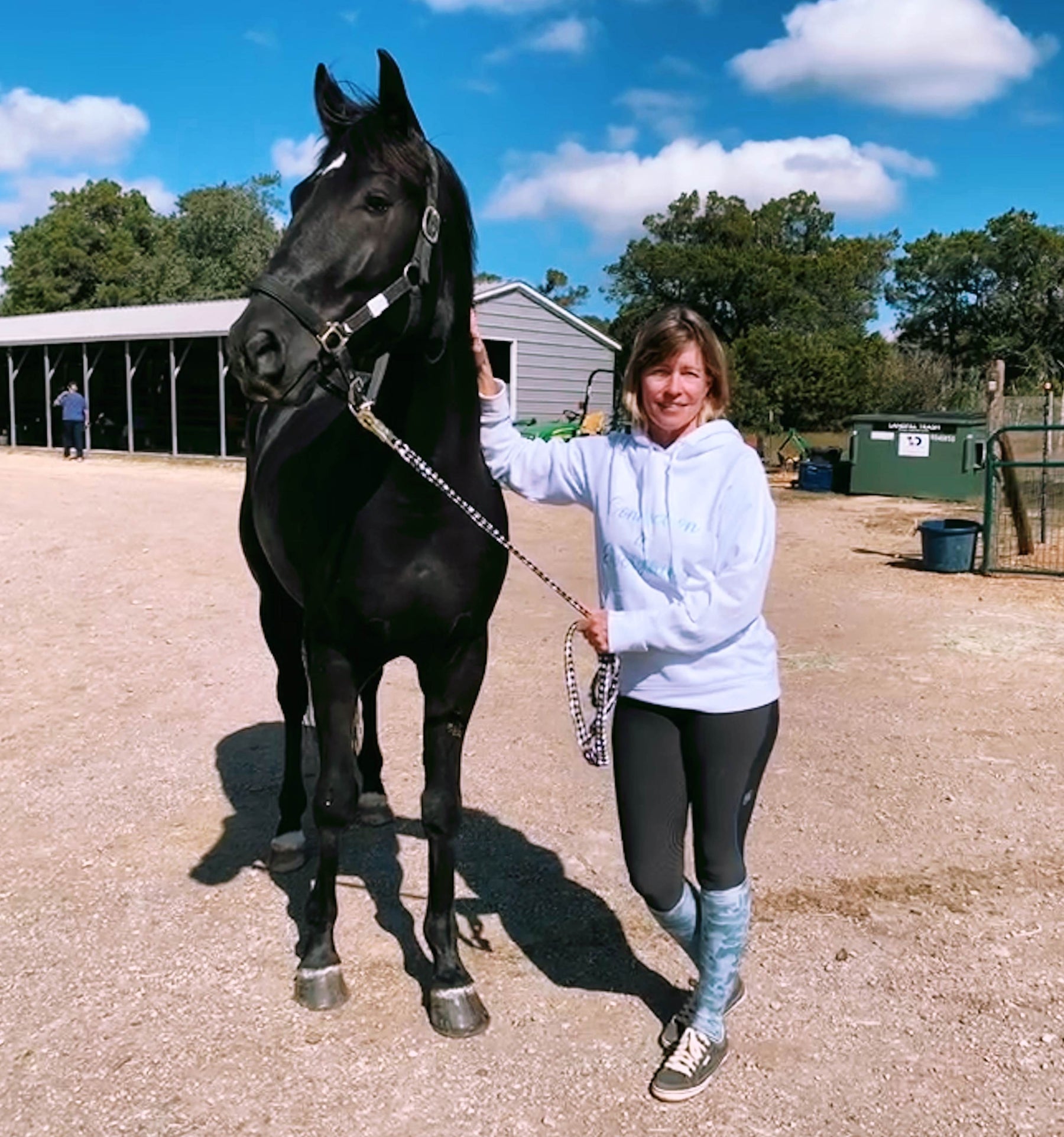 Dream Horse: A Thanksgiving Story
It's Thanksgiving morning and I'm sitting in front of a fire on a comfy sofa sipping coffee and contemplating gratitude. I'm glad we have this day to focus on our blessings. And I am feeling very fortunate in this cozy moment. 
It's been a hell of a month for celebrating good fortune. This month my husband and I renewed our vows for our 10th anniversary. We invited friends and family to join us in Vegas for a party with Elvis because that's how we did it the first time. It was a most fantastic time. David and I feel very loved, thanks to the amazing people who joined us. You know who you are..
On the heels of that party, we welcomed a new member to our family.
Y'all, I did a crazy thing. I still can't believe this happened. I know that sounds dramatic, but in my little sphere of life, I've generally wished for things that seemed out of reach but usually settled for a close second or third in keeping with my own weird view of what the rest of the world might approve. 
Very few of us are immune to the need for approval, be it from our family, our tribe or some largely imagined panel of judges we parade our best photos and moments for on social media. I'm no different and a visit to my memory banks reveals way too many unrealized dreams, due to something I've labeled self discipline, but was more likely fear of reproach from someone in my life (who probably doesn't even exist). 
As many of you are aware, I recently retired my magnificent dragon, Chance. He is living happily ever after, enjoying his pasture buddies in good weather and his cozy stall in bad. Nothing has really changed for him, and he's very happy. As long as he isn't forced to exercise he remains sound and healthy. 
So, there I was, without a ride. And I still have big dreams and big goals. David and I live well, have a nice home and want for very little in a material sense. But we don't do it with a big bank account behind us. We have to spend carefully and make calculated choices. But I wanted a horse. A nice horse. An Olympic horse. This is a conflict. 
My trainer Lauren and I began the search with no money and high hopes. We complement each others skill sets nicely, me as a former investigator, her as a professional with a discerning eye. I showed her dozens of videos of horses I found on the internet. She offered valid criticisms of them all, but remained open because there was this no money issue in the back of both of our minds. 
Then I found him. THE HORSE. The video that caught my eye was incredible. But this really seemed like an example of those things that seem out of reach and for which I would settle for something close, but not quite..this. 
At the bottom of the ad, there was a button with a call to action. "Inquire Now" it said. I pushed it and shared my information. I got an email the next day and we had a short discussion about Nativo OC, a black Portuguese Sport Horse sired by the amazing Totilas. He lived with his breeder near Lisbon. He was 4 coming 5 and barely started under saddle. 
Before you knew it, we had a WhatsApp group set up and I was discussing this horse from Europe with people in Portugal. And I didn't tell anyone. Not at first. I was reluctant to tell anyone. This seemed a bridge too far, but I couldn't help myself. I think I was a little embarrassed to talk about it because I was afraid it was impossible for me. That I might be operating out of my league. That people would look at me like I'm crazy or something. That there would be disapproval. 
But I couldn't resist continuing contact and probably watched that video a hundred times before one day, while chatting over cleaning stalls (normal people might do this over coffee, but horse people spend some of their favorite moments this way), I showed Lauren the video.
It felt like a confession. It went something like this: "Soooo…there is this one video I haven't shown you. This would be insane to try to pull off, but just take a look and tell me what you think?" I handed her my phone. Her words while she was watching? "Oh hell yes!" "This one is nice!" "This is the best one you've shown me!" "Can we go see him?" "Where is he?"
That night I showed David 2 videos. He was fully supportive of my desire to get another horse and totally gets that we've reached a stage in life where we must accept that later is now. If we want to do it, it's time. One video was of a horse that was much more accessible and really nice. Very pretty, with a good mind and good breeding. The other was Nativo OC. 
His response to the two videos? "Stop f**king around, Tracy. There is no contest between these two. For once in your life do exactly what you want."
Two months later, we welcomed Nativo, now known affectionately as Tito, into our lives. I bought him sight unseen beyond videos and vet checks. He flew to the US with his own passport and walked off the trailer after quarantine and a long ride, right into my heart. He is everything I've ever dreamed of in a horse. I get choked up just looking at him.
And thus, we come back to a story of Thanksgiving. I am beyond grateful for David. Because he is willing, with no sense of self preservation at all, to support my dreams. He urges me to do what makes me happy and damn the obstacles. That's true love y'all and I couldn't be more thankful that he is my life partner. 
I am also blessed with a wonderful family, friends and barn buddies. And I'm living my dreams. We may not have a lot of money, but we are wealthy and for that I am giving thanks on this day. I love you all. Thank you for everything, every day. 
Happy Thanksgiving! 
*Special thanks to Filipa Jacome and Catia Almeida of Lusitano World. You made this possible with your excellent guidance.