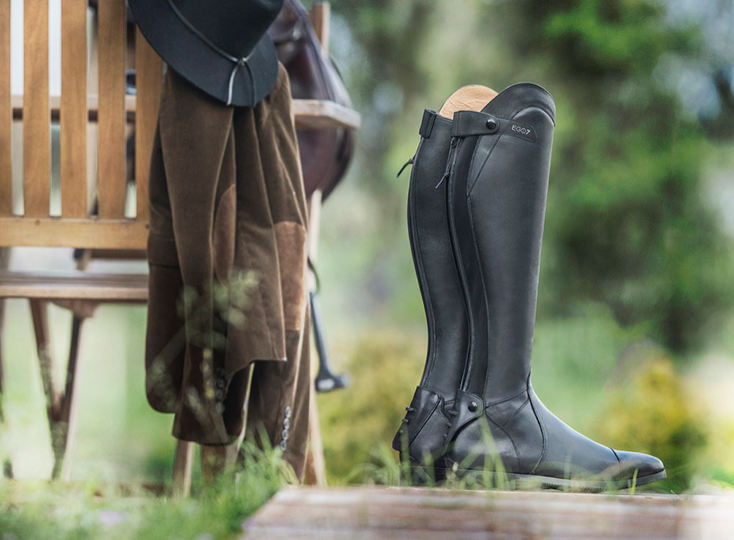 Coming soon to Barn Dog Tack: EGO7 Tall Boots
We have finally settled on a boot brand to offer for those hard to fit riders who don't want to spend their training/showing money on footwear, but still want a high quality Italian leather boot that offering a made to measure feel at an affordable price.
EGO7 boots are made with full grain high quality and include a stitched toecap, back zipper and Spanish top line: modern design combined with high-end style
With 192 different fit combinations, this boot is as close as you will get to made to measure at a more affordable price. 
Innovation, comfort and style combine in this boot of impeccable Italian design. Every aspect of this boot is elegantly designed to be functional and comfortable while adapting to the needs of the equestrian athlete in a triumph of durability. 
EGO7 riding boots have a cowhide footbed and a 2mm anti-shock insole. A second sole is made from antibacterial polyurethane covered with soft leather for ultimate shock absorption. 
The hand sewn rubber sole is designed to provide a secure grip on the stirrup while still allowing for quick release of the foot if needed. These boots are so comfortable you can wear them all day.
All EGO7 models have a rear elastic band. This ensures maximum comfort, freedom of movement and a glove-like, made-to-measure fit -and look- to any calf, together with extreme wear resistance and easy care of the innovative E-tex material. The full-length panel protects effectively the inner calf and guarantees a perfect contact with the horse.
We came across these boots when one of our customers was having trouble finding a good fit in other boots. Our own barn manager here at Riding Club ATX recommended EGO7 because of her own challenges finding a quality boot that fit her own unusual dimensions. (She's tiny, but muscular)
We found some for our customer to try and just like that, after months of shopping, she found her boot. 
We expect delivery of our first EGO7 boots in September for y'all to try. Let me know if we need to get you measured so we can get yours in stock with our first delivery.